First of all let me tell you why you need an alternative for StumbleUpon. The website StumbleUpon is shutting down and will no longer be the place where you can easily have your interests organized. They have announced recently that they are shutting down their website and for the replacement, they are going to provide it's users a new website which is named as Mix.com. In this article I am also going to tell you about this website.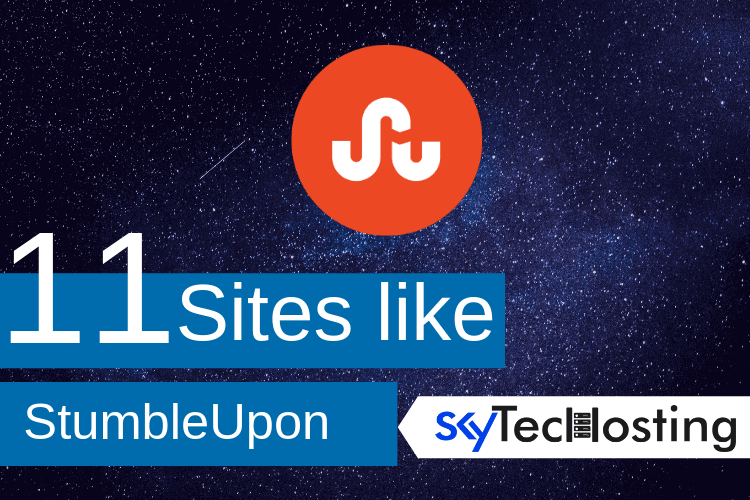 Shutting down of StumbleUpon doesn't mean that you will not have any place where you can easily organize all of your favorite things. Here in this article we are going to tell you about the 11 different websites which help you to do the same and you might not feel the absence of this website.
Before telling you about these websites let me tell you that why did the StumbleUpon shut down? Stumbleupon is a website which had been running from the year 2002 but the problem this website faced was, it was not able to compete with the social media platforms of today's generation. Due to this the growth of this website was not as good as it was expected.
The grown of stumbleUpon was very show and it took nearly 10 years to get to the mark of 25 million people using their website.
The creators of the website did learn a lesson from this and decided to develop a new website with similar platform and they named it Mix. This is almost a similar platform but with a different approach this time.
So finally it's the end of StumbleUpon and its time for you to start looking for an alternative. Many websites similar to it as waiting to be explored and you should start looking at them. So here is the top 11 stumbleupon replacement for you –
1. Mix.com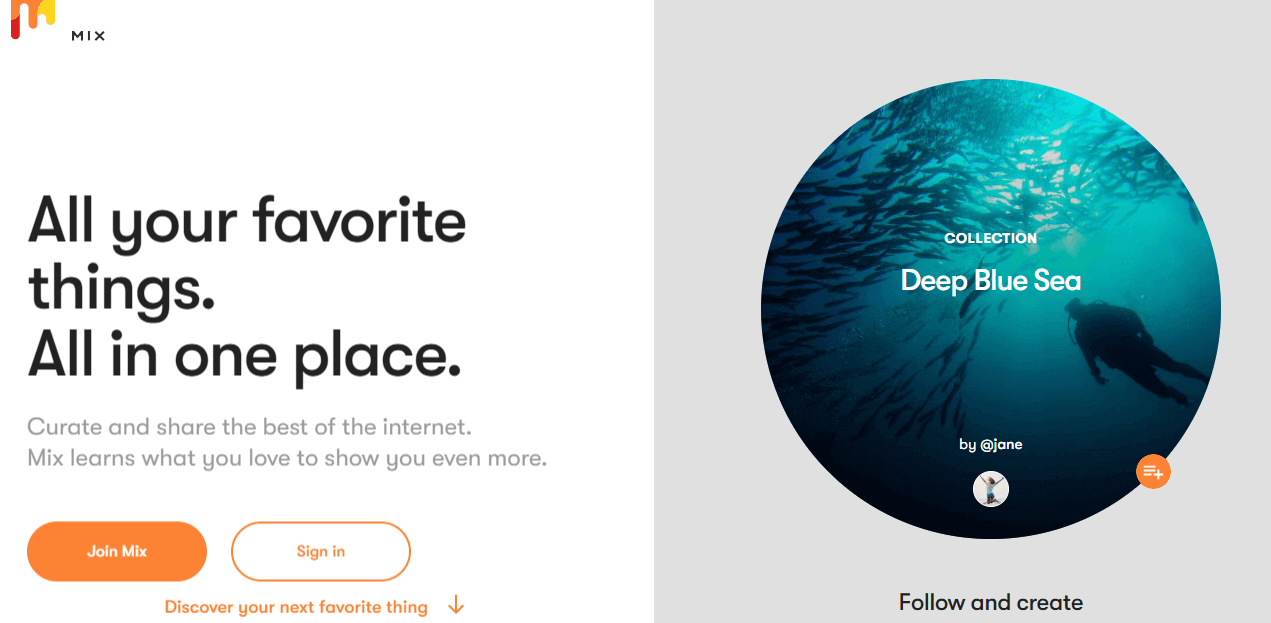 As I told you earlier, this is the new website which is created by the creators of StumbleUpon. This new website is here to help you to create your favorite content present on internet. Here you will be able to create the content of your own by adding your own interesting articles, videos, images or anything that you want to add and you will be able to share that content with other people. You can also look at the collections that are created by other people and look at the thing that interest you.
2. Pinterest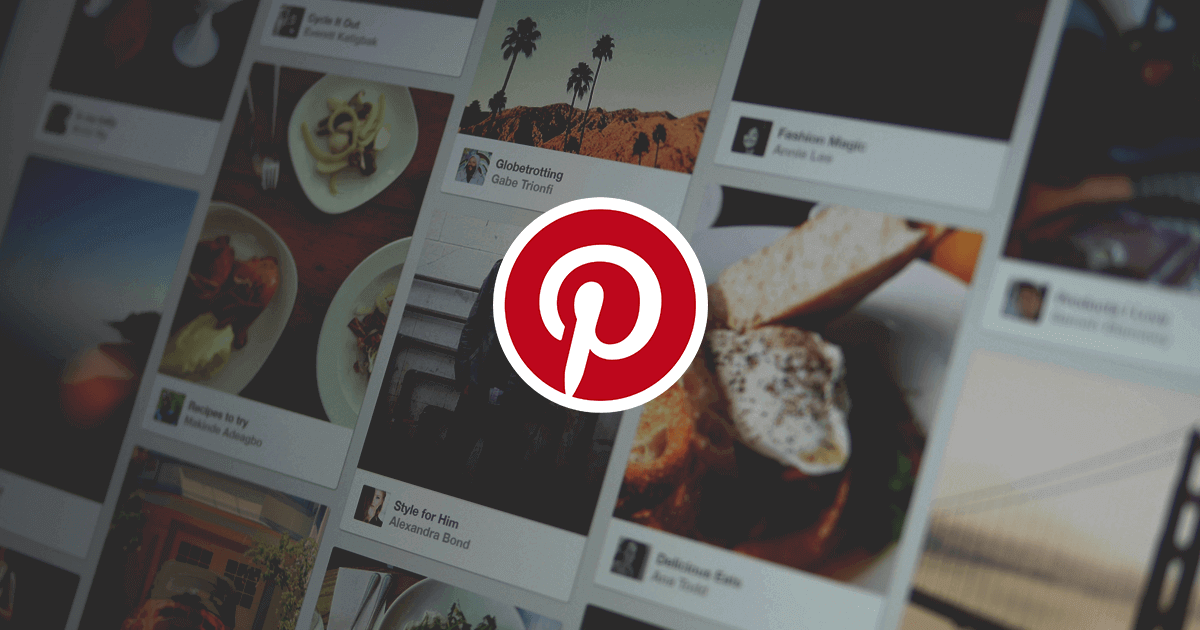 It is one of the most popular website for social bookmarking. This website is completely for pictures and nothing else. Each and every bookmark that is present on this website does have an animation, video or a image present with it. This website does have search features more powerful than the StumbleUpon. You will also find that some of the features that are present here are quite similar to StumbleUpon. Here you will be able to find the content on the basis of your interests and you will also be able to easily find custom lists which are known as boards.
You will also be able to comment, share and also favorite the content that you like on this website. This website does have a very unique feature and that is, you can create the bookmarks with the use of pictures and also videos or animations too.
3. Reddit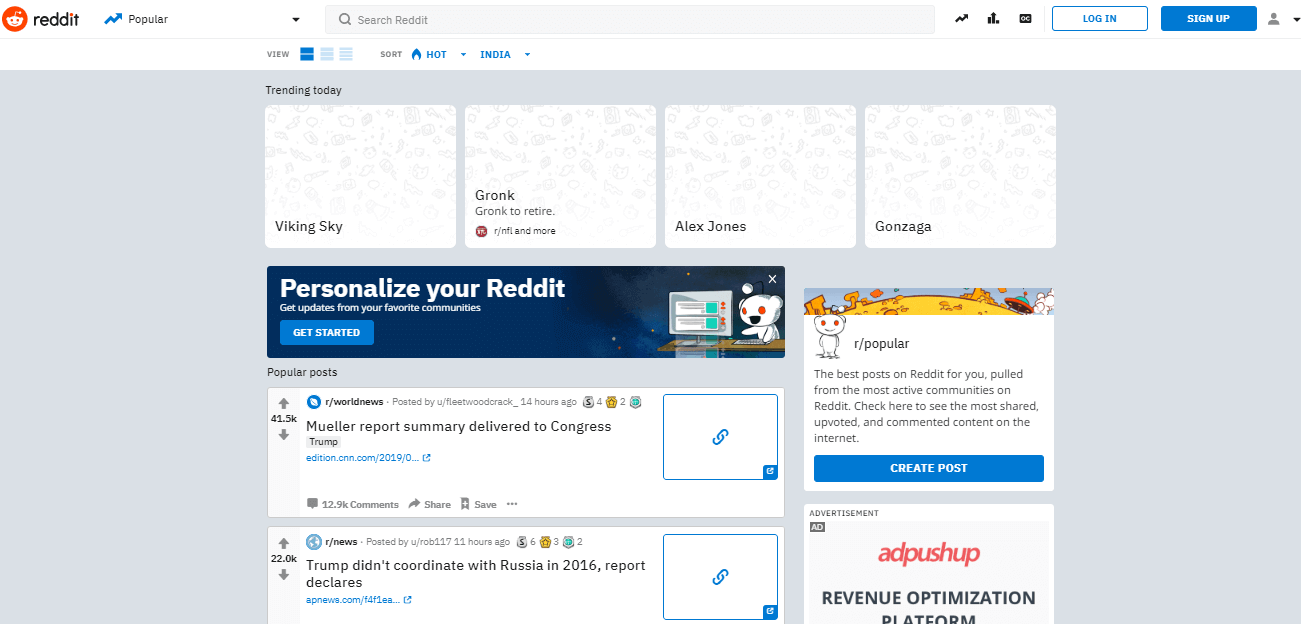 Everyone knows about reddit and it is very popular among the users now a days. What the users love about this website is that it have a style of forum setup and this type of setup does allow it's users to easily leave a comment on the topics which are in trend in the manner that they like to.
Here on this website you will be able to scroll over images, videos, any article, jokes and also memes and much more. Here the most interesting thing is reddit also run a page which is known as Intrestingasf*** which does have the most amazing content on their website. It does have many things that people are really interested in and love to check out.
4. Pinboard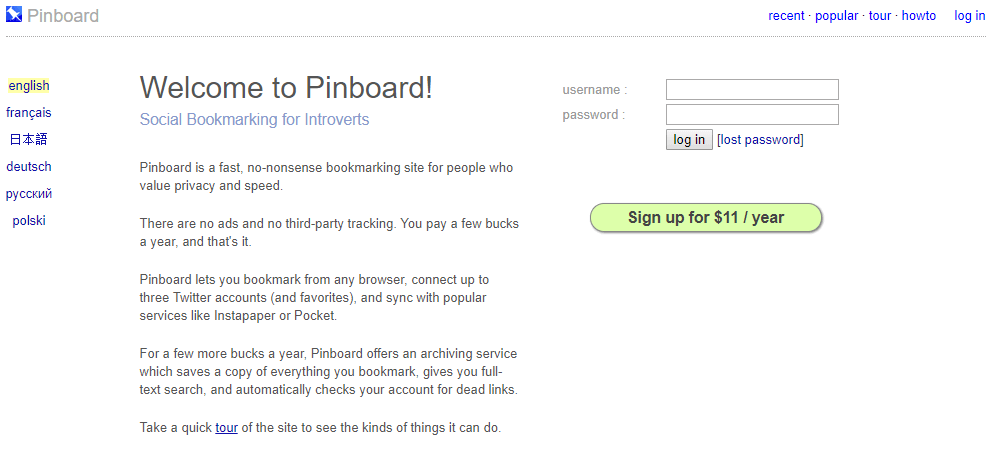 It is a service which is referred towards the social bookmarking for the introverts. This website does aim to offer a simple bookmarking service which not filled with any type of nonsense and that does save anything that you need. Pinboard is a website which does hold itself in the industry of social bookmarking. This website does allow to you organize the content that you store which you found on internet by using the keywords named as tags and it does allow you to easily follow others activity who did make their own bookmarks to be public.  This also consists of features like; you can copy bookmarks and also the content that are available on the other websites for example the content available on Instapaper and twitter. And you can save that list of the bookmarks you got.
It is a good website for all of the people who do values the privacy of their own. This complete website is free of any kind of features related to tracking and any kind of advertisements. The only downside that I found here was, if you want to use this website then you will have to pay $11 for a year. There are also some additional charges for the additional services and that is $25. Well according to me the website is not expensive for the services they provide.
5. Pearltrees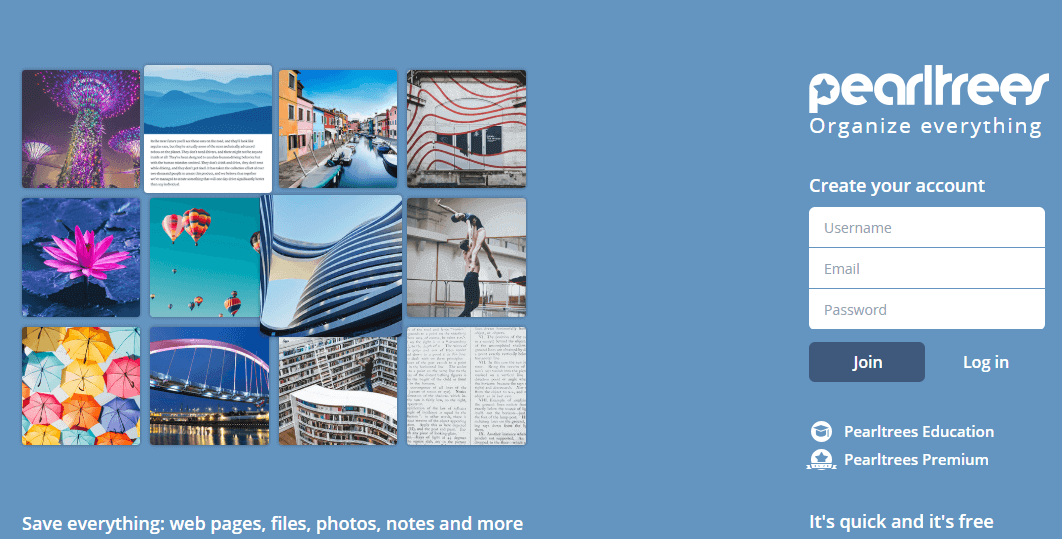 This particular website has an aim to help the people who want to save almost everything that they found on internet. This does include office documents, pictures, songs, videos, notes and also the other websites. Here the use is very easy and simple, you will have to simply drag and drop the content here into the categories which hare custom made.
You will be able to easily explore things in the categories that do share the bookmarks that have almost similar content to the category of your own. You can easily follow the people who are the creators of those categories. You can also team up with those people and also work on the category that you share together. Only drawback here is that, whatever you save will be visible to everyone. The only way to stop it is y paying for the premium account.
6. Discuvver

This website is very easy to use and the concept here is very simple. You will have to go to their website and then you will have to click on the tab take me to a useful website over there. This website will automatically take you to a new website that does consist of some features which are useful.
Here you can also add the email id of yours if you would like to get the newsletter that might help you to get some of the websites that are really useful. It works on a simple concept and very easy to use.
7. Nexstories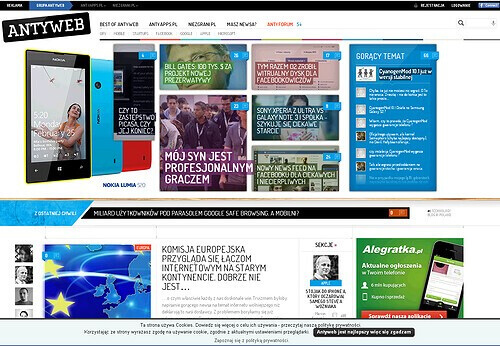 It might be very clear to you just by reading the title of this website. This is a website will help you to find online stories which are very captivating. When you visit any type of blog or even any site for news and you like it, you would be able to save it by using the bookmarking tool by clicking on the tool provided by this website.
This is a king of tool which can help you with improving your time for online reading.
8. Instapaper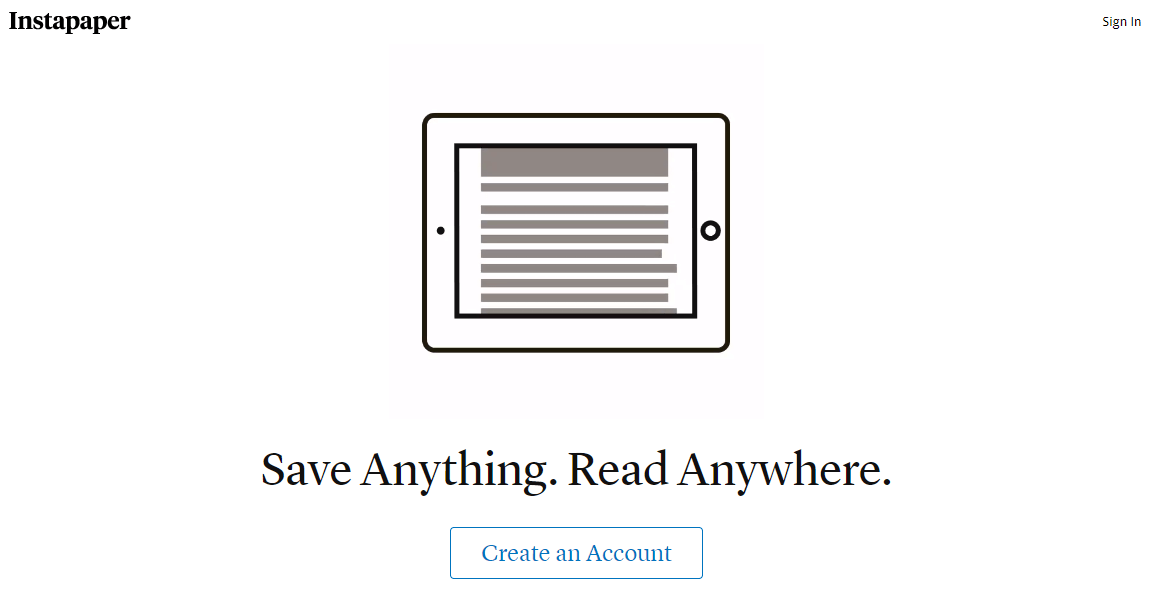 This website is a very good way if you want to save some of the things that you might want to keep for reading later on. This website is going to help you in bookmarking almost anything that you find interesting.
You would be able to save videos, articles, photos and almost anything with the use of this website. You would be able to organize all of the things that you saved in any manner that would suit you the most.
9. Tumblr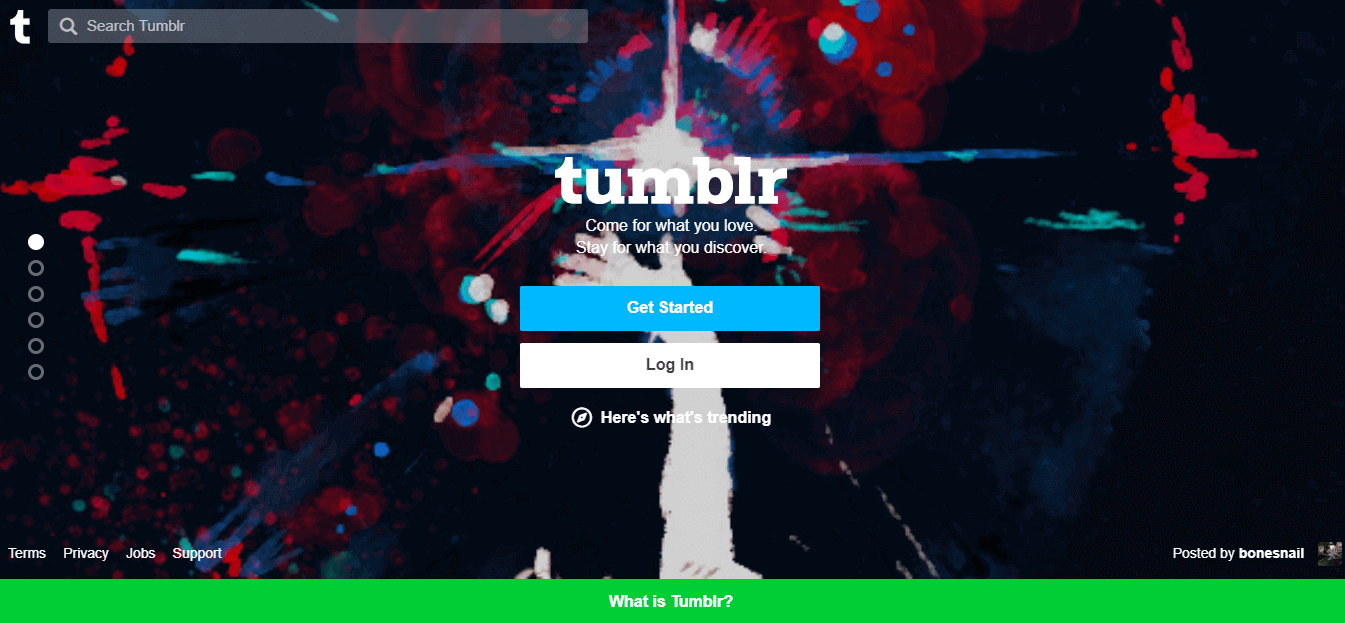 It is one of the most popular website and I do like it a lot, it does attract many people from all over the world who use the internet. You would be able to easily able to upload video, articles, or even GIF images and you will be able to brand of the all types, big and small all of the people want to be a part of this website.
10. Flickr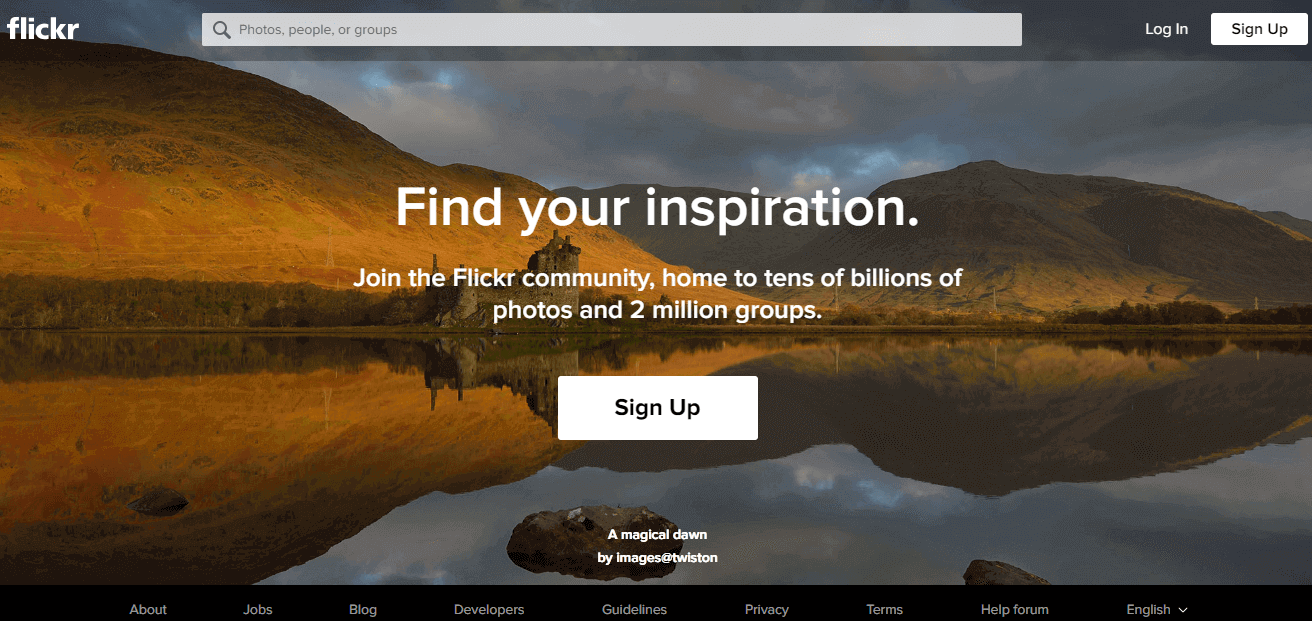 It has tens and even billions of pictures and almost 2 million groups. This website has around 118 million users for the last month, out of which 25 % of them were the visitors form the America, there are some times when I really don't believe that this website does have  so many visitors, but most of the people don't know about it.
11. Twitter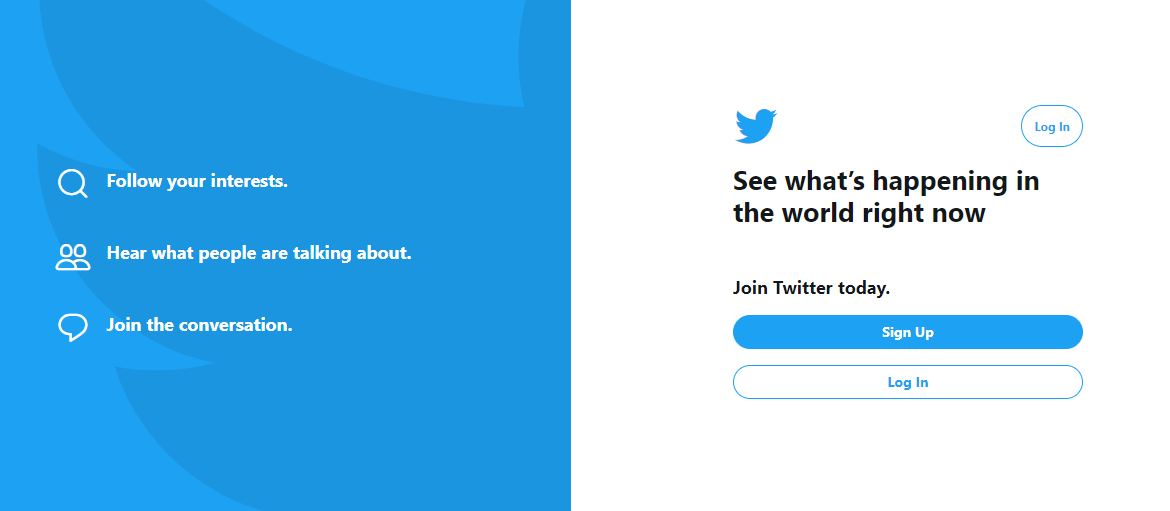 If you don't like any of these then you can for this, but the main motive of this website is not related to this. Consider it as a last resort.
Conclusion
So these were the sites like stumble. I hope this article was helpful to you and please let us know your thoughts in the comments down below.