One of the most important problems that you face when you try to publish your content online is known as the problem of plagiarism. There are people who often try to just copy and then paste the content of yours on any other websites of their as well as in the blogs. Google does try to take some actions on the content which is plagiarized; there are some times when these sites do rank even better than the website where there is the original content available. So people ask that there should be some kind of mechanism with the help of which you could check for the content which is plagiarized. One of the services which are most popular is known as the Copy scape.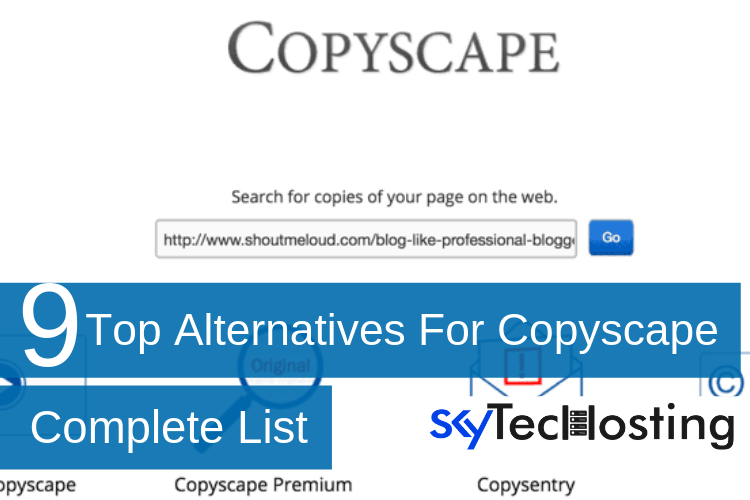 What this website is about?
It is a website which is used for the online plagiarism detection that is does check whether the similar kind of text is available on any other website. Here in the article, we are going to tell you about some of the Copyscape alternatives which are best if you want to check for any kind of content which is plagiarized or not and is available online.
There are some websites which are mentioned here which does allow the whole document to be easily uploaded so that you will be able to check for plagiarism. So here we are going to provide you the complete list of the top 9 copyscape alternatives which are available.
List of top 9 copyscape alternatives 
1. Duplichecker
It is a plagiarism checker which is available online and also it is completely free to use. What you need to do is, just paste the text that you want to check for the content which is plagiarized and it does give you the results that you want. You will also be able to upload the docx file if you are a person who wants to check the content of the document of yours. The service that they provide here is completely free and if you are a user who is registered on their website then you will be able to enjoy up to 50 searches for free per day and if you are a person who do not want to do the registration on their website then you can get one for each day.
2. Plagiarisma
Plagiarisma is a website which does offer you an option for the advanced search for the theft of the content by their different kinds. One method is that, you can just copy paste the content of yours in to the text box which is provided and that also without any kind of limitations kept for the count of word. In second method, you can try to enter the URL of your own website so that you can check for any kind of plagiarism. And the third method here is that can try to upload the document of yours so that you can check for the plagiarism. You can also try to download their software and then further install the Plagiarism software which is free and also it is available on the website of theirs so that you can have a much better experience.
3. Plagium
Plagium is yet one more alternative which does offer answer to examine plagiarised content on-line. It offers fast search, deep search and file comparison. Whereas the short search is free for restricted queries, they charge an amount of 0.04$ for single page for fast queries, 0.08$ per page for deep search and they charge 0.005$ for single page for comparison. The deep search choice provides further levels of plagiarism search and conjointly extra show tools.
4. PlagiarismChecker
PlagiarismChecker is a tool which is almost similar to the tool Plagium. Here you will be able to paste the contents that you want to check in the text box but here you don't have any kind of word limit to check the plagiarism and thereby it does allow the owner here to claim for being the real creator of contents which he created.
5. Plagiarism Detector
Plagiarism Detector is a service which is completely free wherever you'll enter the text, transfer a document or enter the address to visualize for any plagiaristic content. it'll conjointly show the ends up in Checked, Unique, and plagiaristic formats beside the text checked in order that you get an inspiration concerning the quantity of content plagiaristic in any article.
6. PlagScan
PlagScan permits you to either transfer the document of yours or just copy paste the text of yours for checking. It searches for the matching content in billions of on-line sources
And additionally across twenty thousand scientific journals and shows you the results. The report can show the derived text, potential plagiarism and citations and that they get highlighted within the results. it's in the main employed by educational establishments.
7. CopyGator
CopyGator is website which is helpful and provide really good service to the bloggers and it will monitor the RSS feed of your blog or web site and realize wherever your content has been republished. It'll inform you once it finds any derived content on-line. you simply got to offer the RSS feed of the web site you would like to watch and it'll inform you. This service is especially helpful for blogs with RSS feed.
8. The Plagiarism Checker
The Plagiarism Checker is another helpful web site to see your content on-line. You'll either enter text, or use a computer address or transfer documents to the service as all the 3 choices which are supported here. The plagiarism checker works by the assistance of a program that has been designed to mechanically scan your search at the side of all the links of the websites over the complete net and supplying you with results quickly.
9. Small SEO Tools
Small SEO Tools is a 100 percent free plagiarism checker. You'll merely continue their web site and use their plagiarism checker. Simply copy and paste your content into the box. And so click on the large button which is green in color 'Check Plagiarism'. Afterward simply sit back and relax and let the tools of the small SEO Tools do its work because it can scan your article for any duplicated content.
Conclusion
Here were the few alternatives for the copyscape out of which some of were were copyscape free too. These were copyscape comparable and you can try any one of them out.
I hope this article on copyscape was helpful to you and if you do have any kind question or any type of suggestions then you can mention them in comments down below.